Despite competing factors like decade market volume highs and fears of global recessions, startups and VC investors are eyeing the public markets. VC-backed companies looking to IPO (or directly list) this year will face increased scrutiny on profitability, corporate governance and valuation expectations. After reviewing 223 U.S.-headquartered unicorns, we generated an IPO shortlist consisting of nine startups.
Looking Back on 2020
2020 was a strong year for tech IPOs. Initially, the markets did not look ripe for IPOs due to vast uncertainty regarding the global economy, COVID-19 pandemic, and U.S. political landscape. Early IPOs were a mixed bag with One Medical performing strongly at its debut in January, while Casper trended downward after its IPO in February. Q2 2020 saw few IPOs as the world grappled with the COVID-19 pandemic and adjusted to industry-shifting trends accelerated by lockdown measures. Certain industries benefited from these changes, such as on-demand delivery, e-commerce, and gaming, while other industries like hospitality and travel faced significant headwinds due to the global standstill. As the world and investors came to terms with a "new normal", so too did the U.S. IPO market. Since June, there have been at least 30 IPOs each month, with October seeing an astounding 97 new entrants to the public markets. Notable 2020 technology IPOs include Snowflake, Lemonade, Unity, DoorDash, Airbnb, and Palantir (which went public via a direct listing).
2020 was also the year of the SPAC with a whopping 214 SPACs raising over $73B as of December 8, 2020. Private companies like Paysafe and Opendoor took advantage of the speed and price certainty that the SPAC structure offers during an uncertain market. Now, companies have more options than ever when they pursue a public listing with SPACs and direct listings both emerging as "mainstream" options. We expect to see alternative means of going public remain prominent in 2021.
Trends accelerated from the Pandemic
Workplaces need a sense Community whether Physical or Virtual
In a virtual workplace environment, the necessity for collaboration and community has proven to be vital. While a physical office makes it easier for cross-functional team meetings and instant collaboration, there are ways to achieve a similar degree of connectivity using workplace productivity tools. We have seen workplace tools such as Zoom go mainstream, becoming an integral part of people's professional and personal lives. While the pandemic will eventually be behind us, the shift from physical to remote working will not vanish completely. Tech companies such as Twitter, Square, Dropbox, and Microsoft have given their employees the option to work remotely permanently in the post-pandemic world. It remains to be seen if this trend will continue outside the tech world, but regardless it solidifies the necessity for workplace collaboration technology. Companies that we expect to thrive in the post-pandemic environment include productivity applications such as Slack and Asana, and video communication / streaming platforms such as Confluent and Zoom. Furthermore, we expect enterprise companies to invest heavily in remote communication and productivity software moving forward.
Virtual Healthcare is Here to Stay
The COVID-19 pandemic has radically transformed the way healthcare is delivered in the United States. Prior to the pandemic, telehealth was not top of mind for doctors or patients. Due to the necessity for remote visits, the CDC reduced barriers to access for telehealth technologies, allowing telehealth to go mainstream. As the global economy recovers from the pandemic, our team believes that many aspects of virtual healthcare will remain permanently embedded into the U.S. healthcare system. According to FAIR Health's Monthly Telehealth Regional Tracker, Telehealth claims grew 4,347% from March 2019 to March 2020. The increased adoption of virtual healthcare will make tools that facilitate these appointments essential. We expect technologies for virtual visits, AI-augmented patient monitoring applications, and patient data security systems to become increasingly important in the post-COVID world.
Online Storefronts are Imperative for Small Businesses
Consumers have been forced to stay at home during the pandemic, which has caused small businesses to either sink or swim in the e-commerce age. We expect this trend to continue, with small to medium sized businesses increasing spending on e-commerce storefronts and associated technology. According to Shopify, small-business retailers saw a 75% increase in Black Friday sales versus 2019. Furthermore, companies such as Affirm that provide point-of-sale and "buy now, pay later" options have seen strong and continued revenue growth since the beginning of the pandemic. We believe e-commerce technology will continue to see high growth and adoption, with retailers of all sizes increasing their spend on e-commerce technology and integrations.
2021 IPO Candidates
EquityZen reviewed 150 U.S.-headquartered unicorns on various factors, focusing on criteria including: 1) Have they achieved $100M in annual recurring revenue? 2) Do they have seasoned executives with experience taking companies public? and 3) Has the company indicated it is eyeing the public markets?
While we expect the busy IPO calendar to continue into 2021, we narrowed our list to 10 candidates that we believe are likely to make their public market debut.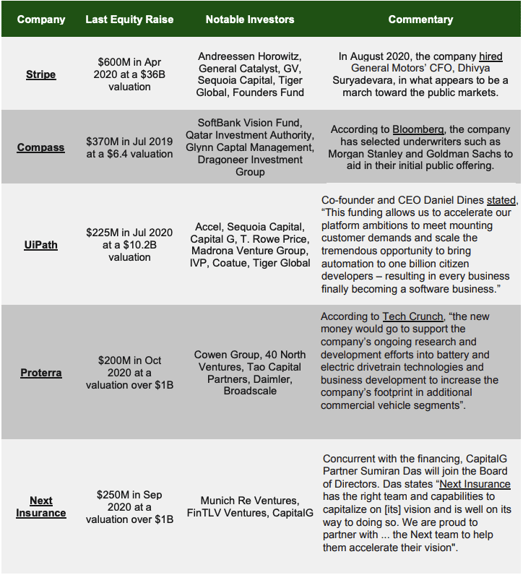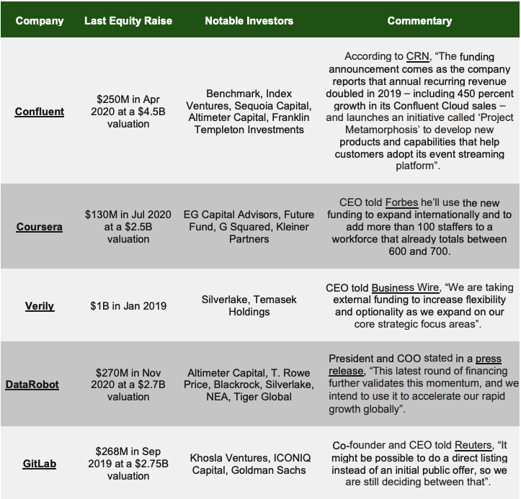 Cautionary Note Regarding Forward Looking Statements
This article contains forward-looking statements, including, but not limited to statements about late-stage venture backed companies. We caution that these statements are not guarantees of future performance and do not constitute investment recommendations. Actual results may differ materially from those expressed or implied in the forward looking statements. Forward looking statements involve a number of risks, uncertainties or factors beyond EquityZen's control. We undertake no obligation to update or revise the contents of this article, including any forward-looking statements, and the forward-looking, which are accurate only as of the time of this writing. Past performance is not indicative of future returns.
Investment risks. Investments in private placements are illiquid investments with inherent risks, including the risk of loss. For more information, click here.