In Part I, we introduced you to EquityZen's Investments page. Now, we'll introduce the different investment products available at EquityZen.

Not all investors have the same needs when it comes to private market investing. That's why we've created different investment products, each with different benefits and key features. Read on to learn more about the different types of investment products available at EquityZen and decide which are best for you. The available investment products for a given company can be found on the company page, which can be accessed by searching for a company from the Investments page.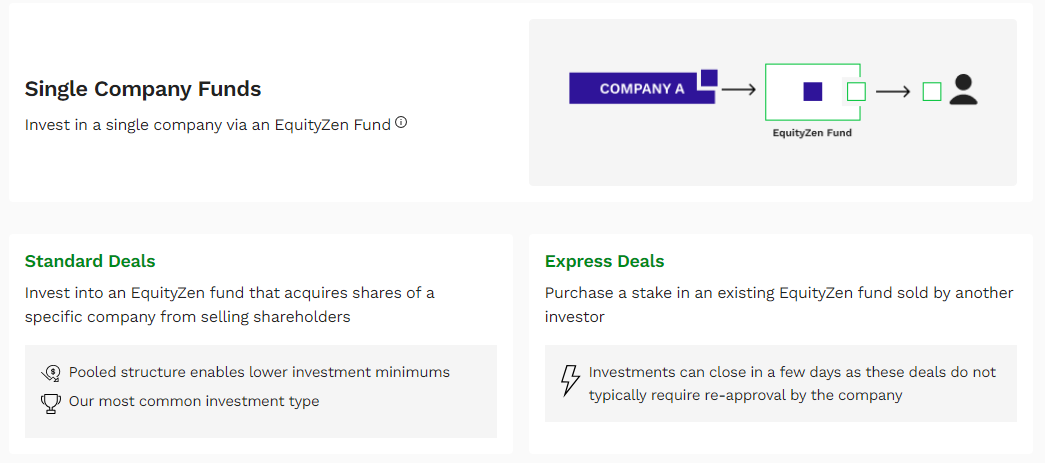 Single Company Funds: Also known as "Standard Deals", Single Company funds are structured to allow investors to purchase ownership interest in an EquityZen fund that is acquiring shares of one specific company at a designated price per share. Investors do not own the shares in the company directly but instead own their pro-rata right to the shares owned by the fund. This is the most popular investment vehicle on EquityZen's marketplace.
As the leader in broadening access to private market investing, EquityZen has enabled over 34,000 investors to invest in more than 400 companies through over 1,300 single-company funds.
Investors join this fund (organized as an LLC) as Limited Partners. This Special Purpose Vehicle is a common investment tool used to pool money from a group of investors to make an investment in a single asset. At EquityZen, this structure enables more investors to invest in private companies at a lower minimum investment. Each fund will purchase and own a specific company's shares at a designated price. Shares owned by the fund will be fully vested stock, rather than options or RSUs.
EquityZen will act as the Managing Member of this fund, and the fund will be a single new entrant on the company's cap table (EquityZen's funds currently sit on over 350 company cap tables). If the company has an exit event, such as a public listing, the fund will distribute the shares owned by investors in the fund directly to those investors after any applicable lock-up window. Please note not all pre-IPO companies will go public or get acquired, and not all IPOs or acquisitions will result in successful investments.
Key Benefit: EquityZen offers investment minimums as low as $10,000 while managing the investment and exit process on behalf of our investors. It is our most popular investment offering and the most common way new investors make their 1st private company investment.
Express Deals:
An Express Deal is a single-company fund offering in which the seller in the deal acquired their position by investing in an EquityZen single-company fund. In other words, someone who previously invested through our platform is now selling the fund interest they purchased.
Express Deals are called "express" because they can close in as little as 3 days. This is because these transactions do not require third-party approvals to close.
Key Benefit: Speed. Given these are ownership transfers within an existing fund, these deals can close very quickly. As a buyer, you can execute and close quickly on an investment target. As a seller, you can get liquidity for your position prior to a company exit.
Here's an example to help illustrate: In 2020, Jane invested in The Awesome Company at $10 per share via a Standard Deal on the EquityZen platform. In 2022, Jane needs liquidity. With Express Deals, Jane can create a sell order for her position in The Awesome Company and list the order on EquityZen's marketplace. Upon finding a buyer for her sell order, she gets the cash she needs within a week, and the new investor acquires the fund interest and underlying share allocation..
Express Deals for a given company can be found by choosing the lightning bolt filter on the Listings page. Investment minimums vary for Express Deals because an investor must purchase the full size of the listed sell order.
To be eligible to sell a position via an Express Deal, an investor must hold their fund investment for at least one year, and their ownership must represent more than 2% of the shares held in the fund. Additionally, the size of their sale must also clear the greater than 2% threshold.
Pro tip: The 2% threshold is explicitly noted when creating an Investment Reservation in a Standard Deal.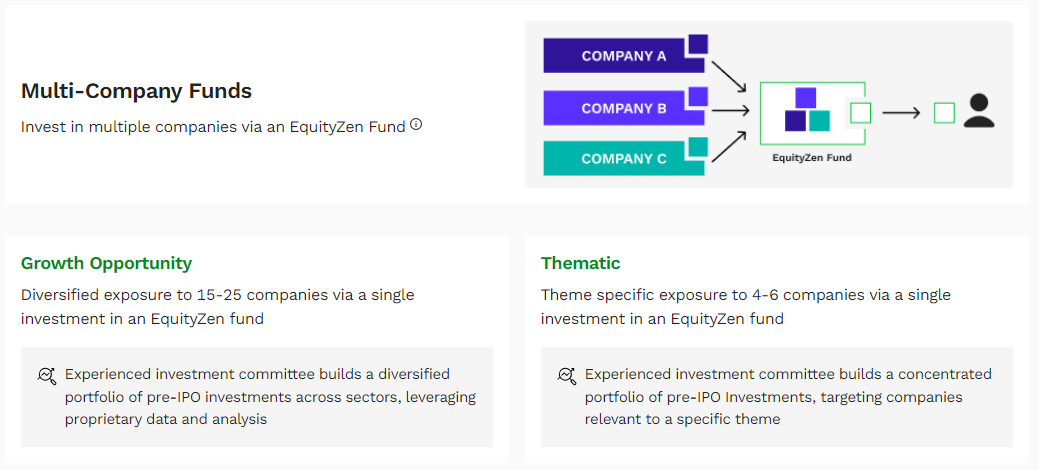 Multi-Company Funds: EquityZen's Multi-Company funds invest in a basket of companies relevant to that fund's specific theme or investment mandate. We offer:
EquityZen Growth Opportunity Fund: a broadly diversified portfolio intended to provide exposure to the mid-to-late stage private tech market via 15-25 portfolio companies.

EquityZen Thematic Funds: a more concentrated portfolio intended to provide exposure to a specific industry or investment theme via 4-6 portfolio companies. Some of our past thematic funds include The Future of Food, AI/Machine Learning, and Fintech.
These funds are great for investors looking for diversified exposure to several companies that are also hand-selected by an Investment Committee. Investment minimums start at $20,000.
Key benefit: Multi-company funds are structured like typical private equity funds with an expected 5 to 7-year life. When a portfolio company exits, proceeds are paid out to investors in the fund in cash as they occur.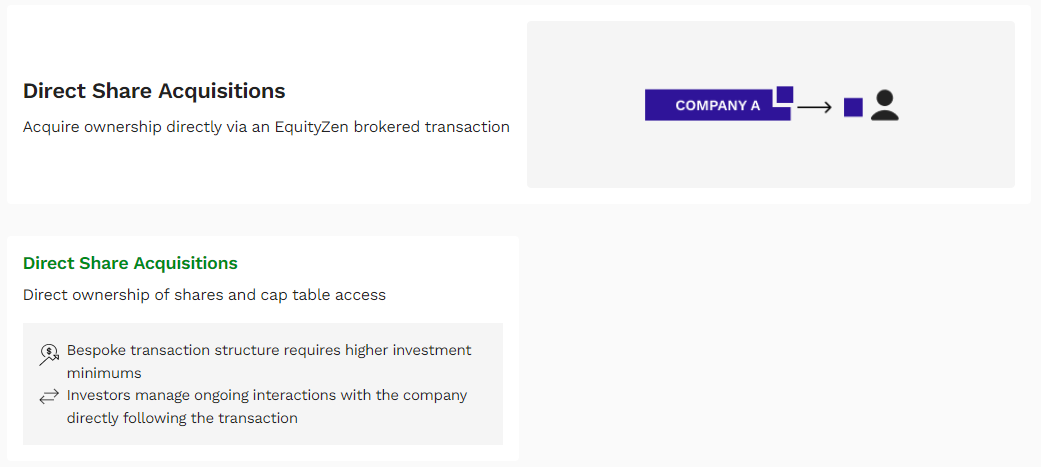 Direct Share Acquisitions:
A Direct Share Acquisition allows an investor to buy private shares directly from a shareholder in an individualized transaction brokered by EquityZen. In the case of a Direct Share Acquisition, the investor is acquiring the shares outright and investing as an entrant on the company cap table. Given the parties involved, this offering has the potential for a shorter time to close but requires a higher transaction minimum. Once a transaction is complete, the investor is responsible for subsequent interactions with the company, including the exit process. The investment minimum for a direct share purchase is typically $100,000.
Key Benefits: Flexibility in transaction price and size, as you're negotiating directly with the seller. Direct ownership of the equity, meaning you'll manage interactions with the company and the exit process independently.
Direct Share Acquisition opportunities can be found here.
---
For more information about all of our investment offerings, check out our Help Center. More questions? Feel free to reach out to us at support@equityzen.com.
Interested in learning more? Check out Part III, which gives an overview of the Offering Document EquityZen investors' main resource for evaluating private company investment opportunities.