In Part III we introduced you to the Offering Document created by EquityZen's Investment Research team for each Standard investment offering. Now, you're ready to reserve your investment allocation. Here, we'll walk you through the Investment Process. Soon, you'll be well on your way to your first private market investment. Exciting!
Once you've reviewed the Offering Document for a given single company fund, you can kick off the investment process by simply selecting an investment amount from the options displayed or choosing a custom amount by clicking "Other".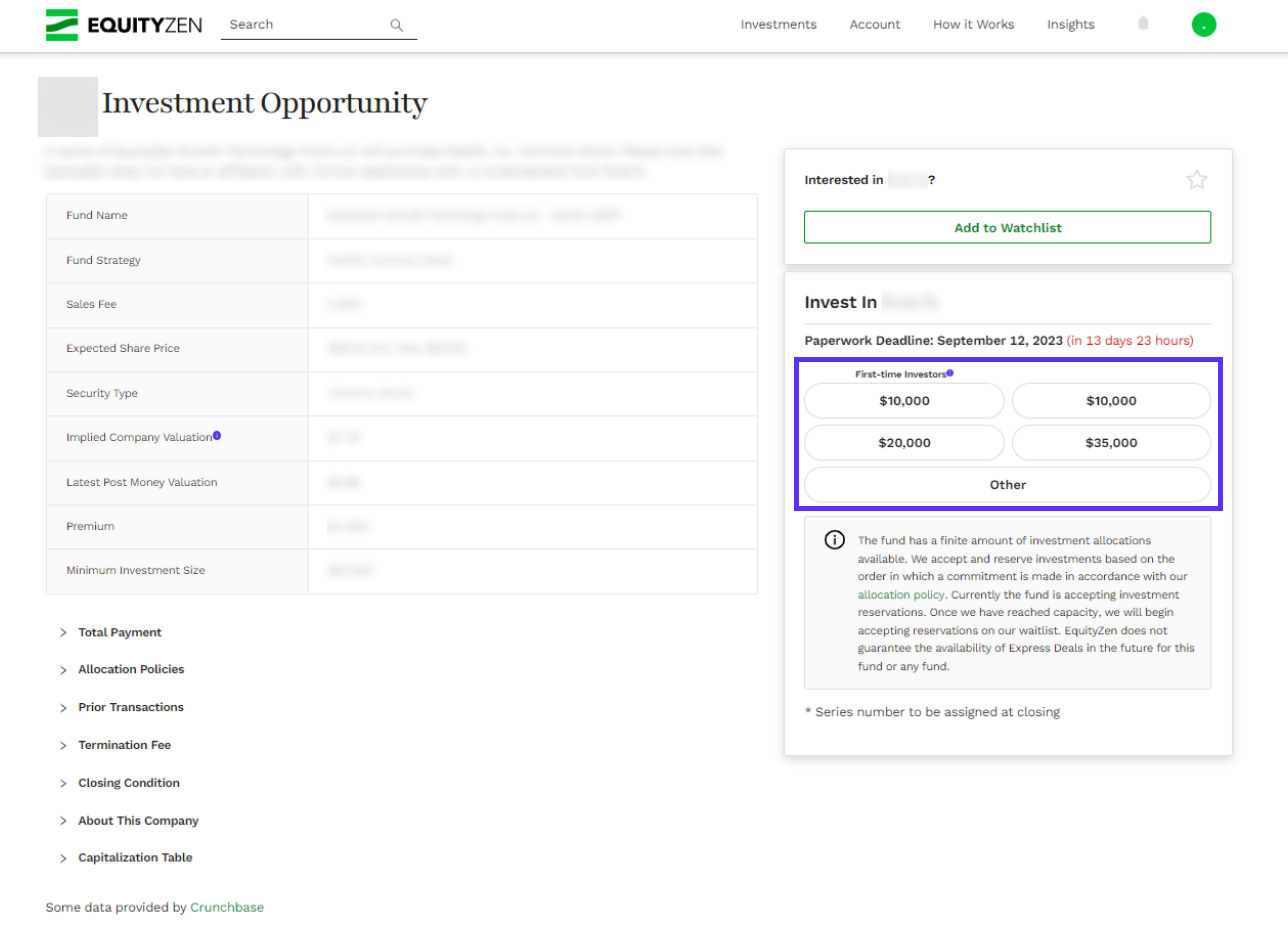 This will open up a new screen where you can complete your Investment Reservation by generating your Term Sheet and accepting the terms. Term Sheets are non-binding and simply hold your spot in a given investment opportunity. To complete your reservation you'll indicate your reservation amount, confirm personal information, including your name, address, and phone number, and execute the Term Sheet.

Important: Once you've made an Investment Reservation, you'll have 48 hours to complete the investment process. You can do this immediately after submitting your Investment Reservation or by clicking "Account" at the top right of your screen > "Porfolio" > "Ongoing" to view your current deals.
To complete the investment process you'll provide basic information about you or the purchasing entity, submit a Suitability Questionnaire, confirm your investment concentration limits, and upload necessary identifying documents like your ID/passport and/or proof of residence (note, if you're investing with an entity, you'll be asked to provide proof of signing authority).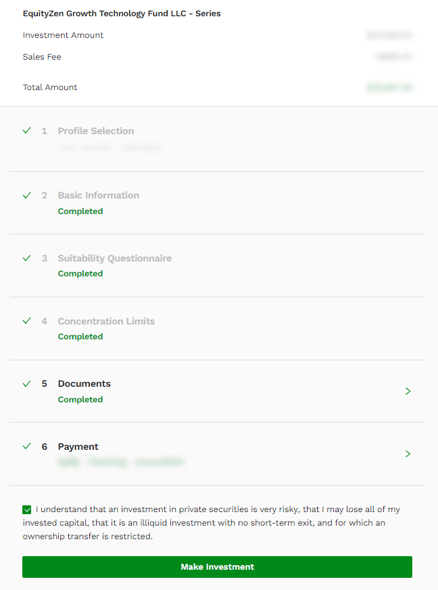 Many investors choose to complete these steps in advance from their account profile as most only need to be done once, even if you make multiple investments. Suitability Questionnaires need to be completed for each investment.
Here, you'll also review and sign the binding Subscription Agreement and W-9. The subscription document officially confirms your investment in the fund.
Please note: Given the binding nature of the Subscription Agreement, there is a $500 cancellation fee if you choose to cancel your investment after this point. Once the company has been notified of the deal, you may not be able to cancel your investment.
Finally, you'll confirm the bank details of the account you'll use to fund your investment.
Funds are not immediately required, and EquityZen will give investors notice to fund their accounts prior to calling capital. Funding can be completed via ACH (domestic only) or wire transfer (all international transfers must be sent through a wire). Prior to funding, we will notify you via email to confirm we will be withdrawing the capital on a specific date. If funding an investment via wire transfer, the transfer is initiated manually through your bank or using Wise (instructions for wires are provided in the "Porfolio" page for the specific investment). You can let us know when you've initiated the wire by selecting "I've initiated my transfer".
From here, you can sit tight! EquityZen works with the selling shareholder(s) and company to submit the transfer and handle all subsequent steps, including the Right of First Refusal process, which typically takes 30 days. If you're curious about where we are in our process you can visit your "Porfolio" page and look at your "Ongoing" investments to see the latest status.
Once the company waives its Right of First Refusal, we will begin the process of closing. This takes about a week or two, and no action is needed from investors. If the company has exercised their Right of First Refusal and we are not able to move forward with an investment, the total of your investment amount and the sales fee will be immediately refunded to your bank account by wire transfer. You'll be notified and given priority if a new investment opportunity in this company becomes available in the future.
That's it! When your investment closes you'll be notified via email that we have countersigned your Subscription Agreement. The Investment Summary and all of your related deal documents will be found under "Porfolio" and "Closed". The "Closed" investments tab will summarize all of your previously closed transactions with EquityZen.
Congratulations on your first private markets investment!
---
For more information about all of our investment offerings, check out our Help Center. More questions? Feel free to reach out to us at support@equityzen.com.